The Solar Systems provide lighting which enables the learners to study well into the evening hours. The systems include highly efficient Grade A Solar Panels, quality Victron Inverters and State of the Art Lithium Ion Batteries which offer plenty of advantages of Lead Acid Batteries. The Systems have Remote monitoring in place made possible with the integrated Victron GX Color Controller.
The systems have been configured to protect against battery overuse by shutting themselves off if the batteries reach a state of charge of about 20% which extend the lifespan of the batteries. The system Automatically switches back on once a charge is detected.
The systems will be officially inaugurated by November 2019.
Khomas Regional Council Project
In 2019, an assessment undertaken by the Khomas Regional Council in Windhoek Rural areas revealed the constituency faces a water shortage for humans and livestock while boreholes are dry or have low water yield capacity.
The Khomas Regional Council with financial assistance from the Ministry of Agriculture, Water and Forestry undertook a project to install and rehabilitee a number of boreholes in the region to address the challenge of water sources.
The project included the installation of a number of solar systems for replacement of faulty engines at 3 Farm Areb, 2 Farm Nauapoort, 1 Farm Versailles, 4 Satanslaught Post 2, 3, 4, 5; as well as the construction of 4km water pipelines at Satanslaught.
Light Systems Namibia was appointed to carry out this project.
Below are a few specifications about the project:
Number of Boreholes: 8,   Number of Tanks and Tanks Stands: 5, Number of Farmers benefiting from Project: 271
Oukwanyama Traditional Authority PROJECT
In 2017, The Oukwanyama Traditional Authority undertook a project to install a solar Borehole system at Odombe Yongwena village in the Ohangwena Region. The system comprised of a Grundfos Pump installed at a depth of 110m, 8 Solar Modules, 2 X 5M Water troughs and 2 X 10,000L Tanks.
Light Systems Namibia was appointed to carry out this project.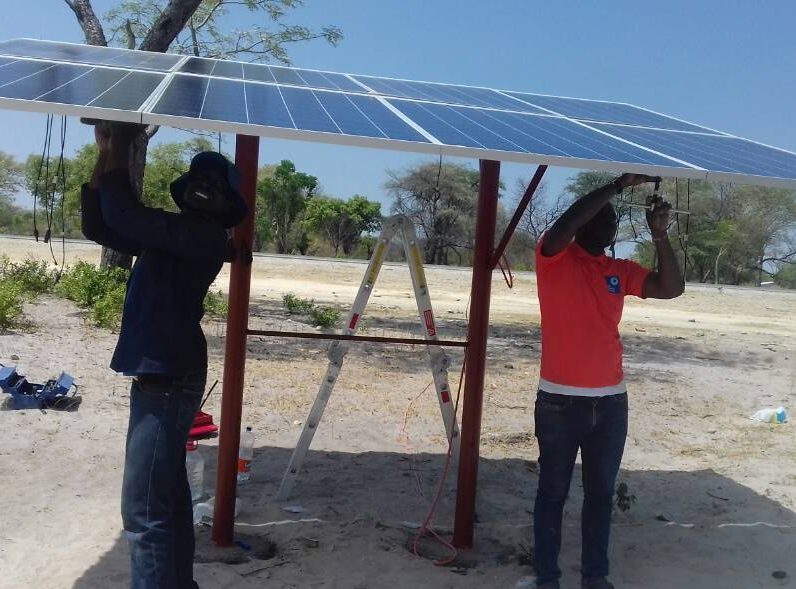 Pictures from Kandunda Kaseta Combined School Installation
Pictures from Nsundwa Combined School Installation
Pictures from Khomas Regional Council Project
Pictures from Oukwanyama Traditional Authority PROJECT