SOLAR POWERED STREET LIGHTS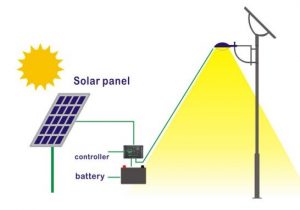 System Key Features
The Asset Point Street Light system is extensively used for outdoor street lighting. The Street Light operates on stand-alone mode, eliminating the need for a general grid of any power requirements.
Grade A Solar Panels

12VDC LED Lights (110° Arc each)

Charge Controller

Steel Brackets for Mounting

Lighting Range: 60m; E8 (Facial Recognition at 8m)

Up To 24 Hours of Continuous

Fully Automated via Day Light Switch
ALL IN ONE LITHIUM ION POWERED STREET LIGHTS
System Key Features
LSN introduces an 'All-In-One' Solar Street Light. It features a highly efficient 60W-90W LED output capacity. The 'All-In-One' Solar Street Light features the latest in MPPT technology ensuring maximum efficiency and electrical conversion from the limitless power of the sun directly to the powerful and compact Lithium Ion battery system. The solution automatically regulates the light output brightness depending upon detection of movement around the light to preserve battery power.
High efficiency Monocrystalline Solar Panel

Up to 7 Days Autonomy
System Key Features
The Mightylite LED floodlight is the latest innovation in high-power, low energy security lighting. It is equipped with tough polycarbonate facing which protects the light from external interference and damage. The Mightylite LED floodlight's compact design offers all the features required of a modern floodlight with clean lines, simple installation with an easy pan-tilt adjustment.
When fully charged, the Mighylite provides continuous low-level courtesy lighting from dusk- till-dawn and boosts up to full power for 30 seconds when movement is detected by the built-in PIR. If the battery charge is low, the Mightylite operated at a lower light level and restricts the time on after detection to preserve battery power.