ABOUT LIGHT SYSTEM NAMIBIA
We are often asked 'What drives your company to be a leading renewable energy company?"
Our response is generally along the lines that the Sun's Irradiance is our most abundant resource in Namibia. And when we look at comparable advantages of economies, Namibia's sun is amongst the best in the world – and this is coupled with a temperate climate with relatively low humidity and very little pollution, as it stands. What this means is that we are capable of producing the most cost effective electricity in the world.
We were attracted to the challenge of bringing Solar Photovoltaic Systems to market in Namibia. "Why aren't there solar panels on every roof in Namibia?", we pondered. Light Systems Namibia is a response to that challenge and in the years to come, will exceed even these expectations.
Along this journey, we faced the difficulties – small and large – to bring more solar on line in Namibia, and learned the ropes in what is still an infant industry.
With valuable experience now behind us, improved capacity and a commendable project portfolio, we look to continue the pursuit of growth in 2017 and beyond.
VISION
Light Systems Namibia aims to be the first household in Renewable Energy in Namibia. To achieve this, the Company will invite the public to engage us in Dialogue, facilitated by our omnipresence and accessibility. Clients of Light Systems Namibia will receive the highest quality service and will receive the best in design and workmanship.
MISSION
Our Mission is to make Renewable Energy and Integrated Power Technologies accessible to Namibian individuals and enterprises. We will do this with the client at the centre of our organisation, upholding the highest standards and pioneering applications that deliver measurable results.
LEADING MINDS. WORLD CLASS RESULTS.
PAULUS MULUNGA
Paulus Mulunga is the CEO of LSN. The CEO is tasked with leading the development and execution of the Company's long term strategy. The CEO's leadership role also includes being ultimately responsible for all day-to-day management decisions and for implementing the Company's long and short term plans. The CEO acts as a direct liaison between the Advisory Board and management of the Company and communicates to the Board on behalf of management.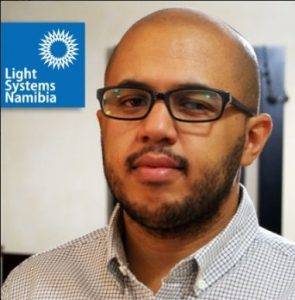 LYNDON ELLIOTT
The catch-all position of Chief Operating Officer is assigned to Lyndon Elliott. Lyndon draws on his experience in Entrepreneurship, Data science, Financial Engineering, Marketing, Financial Services and human development skills to bring value to the LSN.
ONIAS MHAKA
Onias is Director of the Chartered Accounting Firm: Graceland Consulting Services. Onias is a Chartered Accountant by profession having trained and completed his Articles of Clerkship with Deloitte & Touche in 2005.   He  has vast experience in financial management, auditing, financial and management accounting culminating from the management roles he assumed whilst still at Deloitte and later at KPMG and his current role as Senior Manager: Finance at one of the State – Owned Companies in Namibia. Onias has also had exposure to international markets through his stints in Dallas USA and Dubai – UAE.
"We have worked with Avada Law for the past 15 years. As we have grown and evolved, what I have valued most about our relationship is that Avada Law know us and our business."
LEADING MINDS. LATEST PUBLICATIONS.
INDUSTRY STAKEHOLDERS, PARTNERS AND ASSOCIATES